Doing this quickly at the car dealer to get it out. Thus, page this is going to be a lot of screencaps 'n' paste action and poorly formatted. You are forewarned.
First, some background, via cheap and dirty screencaps of some twitter conversations; click to embiggen: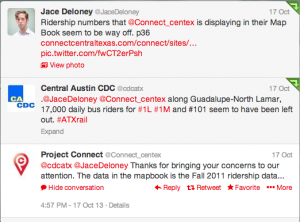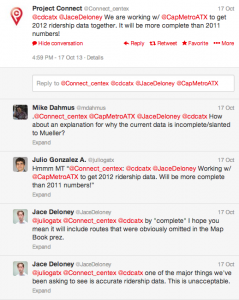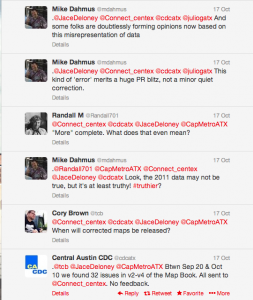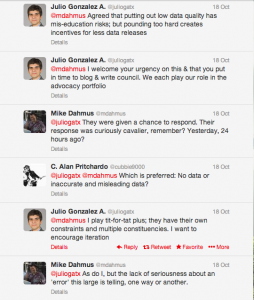 Notice how many people immediately saw the problem with this map (as soon as they looked).
Then, Project Connect finally issues an initial response; more than 24 hours later. Note that these four are in reverse order (oldest at the bottom).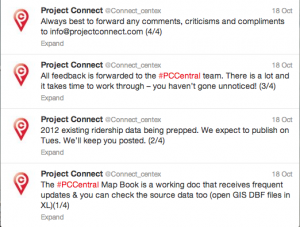 Realizing right about now I should have done this in storify, but pressing onward. The first point to see here is that Project Connect is more than happy to send out updates on everything via twitter where everybody can see, but they don't seem happy to engage with people giving feedback on that mechanism. While I understand at this point whomever's behind the account (JMVC used to be, don't know if he is now) is feeling a bit set upon, the fact of the matter is that if you ask for more feedback via email you're not being transparent. People need to see both the question AND the answer for it to qualify as transparency and as Austin CDC noted earlier, previous feedback via email had been ignored.
Over the weekend and early the next week, the incredibly busy people at Project Connect who were treating this issue with the seriousness it deserved spent all their time fixing the data. Or did they?
No, they didn't. They presented at, with the previous map book:
About halfway through this schedule they noted:
Here's what that release said:
It was brought to the attention of the Project Connect Central Corridor team that there was a potential
issue with the Central Corridor Map Book. The team reviewed versions 1 through 4, confirmed an error
and has made the necessary corrections.
After further review of the Bus Ridership Map featured on page 36 of Map Book version 4, we
discovered that the map had been populated using the wrong data field (bus stop rankings instead of
stop boardings). The source data set posted to ProjectConnect.com was not incorrect or incomplete, but
the map in the Central Corridor Map Book displayed the wrong data field.
The project team will publish version 5 of the Map Book online in the Central Corridor Resources, on
Wednesday Oct. 23, 2013. It will include the corrected map with fall 2011 Ridership Data as well as a
new map with spring 2013 Ridership Data. Both data sets are populated using boardings (or "ons") at
each stop; data by route is not specified on the map.
The Central Corridor Map Book is a working document that is subject to frequent updates. We
appreciate interested community members taking a vested interest in the project and providing
feedback. The Central Corridor team reviews every comment, critique and compliment received by
members of the public, regional leaders and interested parties as part of our inclusive, deliberative
process. The Project Connect Twitter and Facebook accounts continue to be great resources for
community input but if your feedback exceeds 140 characters, please email info@projectconnect.com
The map was indeed released on Wednesday, five days after initial feedback was given. Many many people were misinformed by the previous map during that period; many more people missed the opportunity to be correctly informed by the actual data during that period; and Project Connect thinks this is no big deal.
Do you think it's a big deal? Here's the original map:
If you saw this map, your likely reaction (if you took it for the truth) might be: "Why are those Guadalupe/Lamar guys asking for rail when there's so much existing transit demand out towards Mueller?"
Here's the corrected map: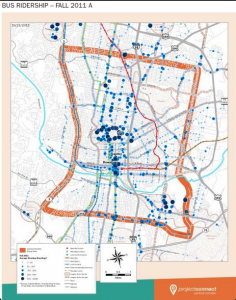 If you were a resident of Mueller and saw this map, you might even be honest and say "we don't deserve rail over the obvious high-demand corridor here". If you were on the Planning Commission, you'd definitely say so. But Project Connect robbed you of the opportunity to form that opinion with correct data.
Was it a simple accident? Well, it's conceivable. But is that any better?
Let me make an analogy for you.
Suppose you're a college student back in the day when we turned in physical papers instead of via email. You got an assignment to write a 500 word paper on why the Federal Transit Administration views existing bus ridership as the most key metric in determining the viability of rail service.
You write your paper. You print it out, and hand it in.
The professor returns it a day later with an F, indicating that you didn't write enough words.
"I did," you insist; "I remember writing for hours!"
The professor shows you the paper you turned in. It looks like this:
Your initial response is "that looks like my term paper, but I'll look into it!".
You take five days to look into it.
You finally come back to the professor and say "It looks like I only handed in the third page of my paper by accident. Here's the next iteration of the paper" and hand the full 3 pages in.
Any professor worth their salt is going to say "Did this look like 500 words when you handed it to me? Did you even check? If this is how seriously you take my class, I'm going to explore whether I can issue a grade lower than F".
Project Connect, if they cared at all about the data that's theoretically informing opinions in this process, would never have let the old map go out. It was SO OBVIOUSLY WRONG that it was immediately spotted by everybody who knows anything about transit in Austin as soon as they looked at it. It's the equivalent, for instance, of putting out a road map with Cedar Park labelled as Austin and vice-versa. There's only two reasons this would have gone out that way – and again, the most positive one to PC is that they don't care that peoples' data is crap, because they don't care about the opinions generated by those data, because they don't intend to actually take those opinions into account.
Yeah, that's the BETTER interpretation. The worse is that, like many other modifications to maps many of us have found, they're messing with the data on purpose to try to get the public to actually support a lesser rail route.
Obviously I'm not among those who have, either as a political calculation, or otherwise, just politely thanked Project Connect for their corrections on this matter. As I noted above, this is not nearly enough. What would it have taken to get me not to open up on these guys?
1. An immediate and strongly worded apology last Friday for the obviously wrong map. There is no way that anybody who knows anything about transit in Austin would look at that map and say "looks fine to us!", but that's what they did.
2. A loud and large public relations campaign with the corrected map – show everybody who you misinformed with the old map the new map and explain the error and what it signified, instead of burying it in a PDF press release issued only from your web site. Remember, for instance, lots of people at the Mueller NA now actually think they have more bus riders going there than up Guadalupe! And they're talking to their friends about it as we speak.
3. An immediate and serious commitment to handle all future issues of this type in a truly transparent fashion – for starters, show Austin CDC's questions and provide answers in PUBLIC. Don't let them go down the e-mail hole. If you feel like you can use twitter to advertise your meetings and maps, then reasonable people expect you to answer issues about them in the same forum in a timely fashion – indicating that you'd prefer such feedback via email is not acceptable.
My car's almost done, so this is going to have to be it for now. Suffice to say these guys have not learned their lesson at ALL, and thus have not earned my trust, and they should not have earned yours either. Continue to take every thing these guys do with a hefty dose of skepticism.