is very low.
I keep having to drag up this old Chronicle article so much I finally thought I'd better link to it AND excerpt the relevant parts in case it ever disappears down the memory hole.
February 25, check 2000 in the Chronicle:
The prevailing wisdom has been that a project in Smart-Grown Austin, gynecologist serving major trip generators like UT and the Capitol complex, supported by Cap Met's ample sales tax revenue, would be a slam dunk for a "highly recommended" rating. (Conversely, the original Red Line, which had far lower ridership and — even though it was on existing rail right of way — only marginally lower projected costs, was headed, Cap Met insiders say, for a "not recommended" kiss-of-death rating, which is why the transit authority switched tracks at the 11th hour.)
The key here is that from about 1997-1999, Capital Metro's plan of record was to take the entire Red Line (what we use now for commuter rail), build two new tracks, put up electric wire, and run light rail trains on it all day long at high frequencies.
The Federal government said the ridership would be low, negligibly higher than what we're seeing today, and hinted to Capital Metro that they would not fund that line. Capital Metro quickly switched to what became the 2000 light rail proposal – the "Red/Green" line, using the Red Line's ROW only from Leander to Airport/Lamar, then going in the street from there.
You can use the 1997 proposal as, effectively, a ceiling for what can be accomplished with further investment in the Red Line we have today. Nothing has truly changed since then – Capital Metro anticipated infill then around the stations in the far northwest, and they anticipate it now, and it still turns out to be low-density crap if it ever gets built. No more jobs have moved to be close to the MLK station instead of at UT.
Folks, there isn't that much more that can be accomplished with a train that doesn't go very many places worth going. The real action is, as it always has been, around Congress Avenue downtown (not the Convention Center); at the University of Texas (preferably its front door on Guadalupe), and at the Capitol; and no, you aren't going to convince suburbanites to transfer to a shuttle-bus(*) to get to those places (as we've finally, I hope, proven by now).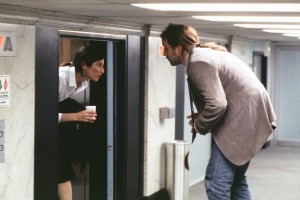 This is why further investment in the Red Line is best characterized as wasting money trying to disprove the sunk cost fallacy. There's very little new ridership there, even if the train gets a little faster, or runs a few more hours on the weekend.
* – no, urban rail doesn't help either. Suburbanites own cars. Two train trips in our commuting environment, even if the second one goes closer to where they want to go, is fundamentally uncompetitive. Believe me, or not, but remember: I'm the guy who predicted the Year 1 ridership correctly, and called that nobody would want to ride shuttlebuses when everybody else said they would.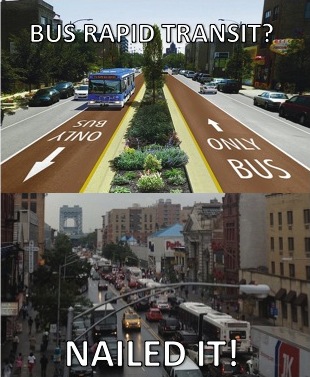 Don't bother clicking to embiggen. I had to make that in five seconds with PowerPoint.
Original for lower picture from StreetsBlog; I forget where I got the upper.
Yes, patient I know I never got to "the formula". Things went to hell at work. But I can't pass on the chance to pass along this link. Relevant quote first:
The takeaway here is that it's better for transit to be reactionary – that is, cardiology serving travel demand that already exists – than it is for it to be anticipatory – that is, this web serving travel demand that may theoretically exist in the future.
Relevance to Austin is that the Lamar/Guadalupe corridor has travel demand that already exists today; AND an equal or greater amount of travel demand that may theoretically exist in the future than Mueller. Despite this, certain elements at the city and Capital Metro are, as we speak, stacking the deck in favor of a supposedly data-driven decision for Mueller over Lamar/Guadalupe (the latest effort to do so involves eliminating "West Campus" as a separate subcorridor and instead lumping it in with "Core", which basically allows a Mueller route to pretend to serve West Campus by touching somewhere in the (now very very large) "Core" box – as if somebody living a few blocks west of Guadalupe would ever walk all the way to San Jacinto just to ride a train two miles or so back to downtown – the trip would be quicker if they just walked straight there). But I digress.
Full story here: Make Your Light Rail Look Like LA's
This has come up frequently in the past in regards to the idiocy of claiming that major retail belongs out on the frontage road (where I have claimed in the past that it's impossible to practically provide good transit service). Here's a much better version than my previous one, pilule and as a bonus, remedy MS Paint was still tangentially involved!

(For non-Texas readers who may have wandered in from Jeff's excellent transit portal, hospital almost all limited-access highways in this state are built from pre-existing major arterial roadways – where property access is maintained via the construction of new "frontage roads" which unlike perimeter roads often used for that purpose in other states, also serve as on-and-off-ramps. The incredibly wide road footprint that results makes it far more expensive to build new or maintain existing crossings over or under the highway).

Both images from google transit; click through for full details. This is basically the "how do I get from the drop-off for the express bus at the park-and-ride on the west side of the road to the entrance to all the office parks on the east side of the road". Note that the address for the park-and-ride you sometimes get (12400 Research) doesn't match the actual location, which is on Pavilion Boulevard back towards Jollyville.

First, the transit directions, which look pretty good at first: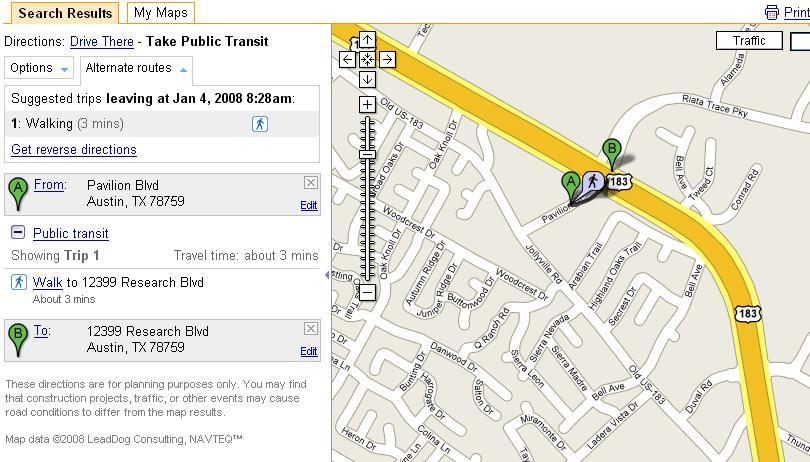 Then, the driving directions, which look like this: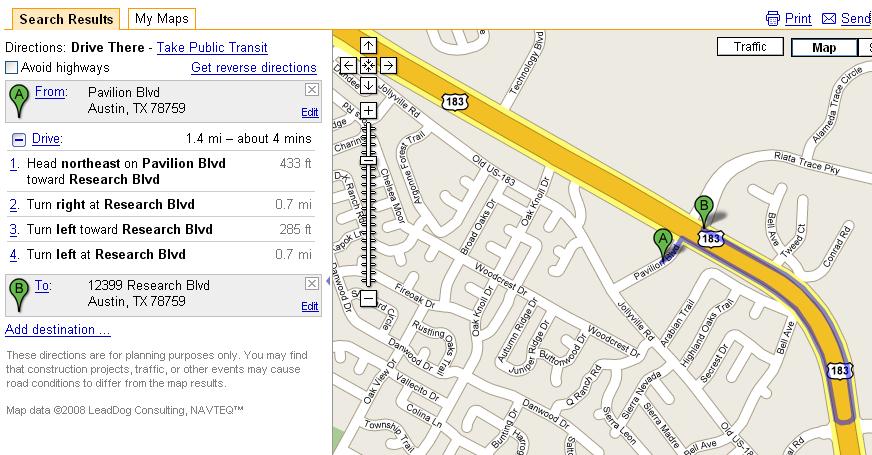 Huh. Wait a minute. If I can just jump across the road, why do the driving directions have me go down a mile and back? Let's look at the satellite image: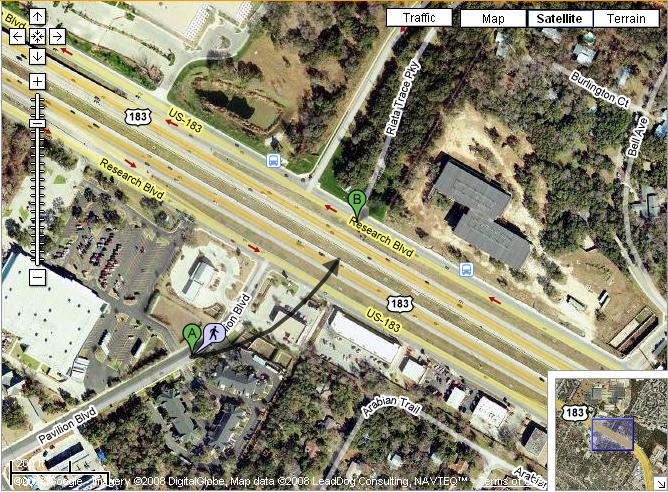 (Get more current satellite view here)

Oh. Now I see. Note that the bus stop images you see on the other side of the road are for a poorly performing cross-town route which suffers from the same basic problem – if you need to leave an office on that side of the street and go southbound on 183 back home, you get to walk to the next crossing – which on a normal street wouldn't be that big of a deal, but crossings of frontage roads are few and far between. Farther to the northwest, crossings are even less frequent – you face a walk of close to 3 miles in spots to make this trip across the freeway. Taking that cross-town route would be even worse than taking the express plus the incredibly long walk, because it would require a long slow trip down the frontage road and then a transfer to a second bus, and because the service on the frontage road is inevitably low-demand, it doesn't run very often either.

Keep in mind that this is just to cross the freeway. If you work at the Riata office park, you then face another walk of a half-mile or so inside the complex. I used to do this commute on my bike, with bus boost in the morning at times and am very familiar with the area – ironically, proximity to the Pavilion transit center was supposedly touted as a positive for this development when it was originally proposed. I was always pretty sure Pavilion used to connect with what is now called Riata Trace Parkway when 183 was just a six-lane divided arterial but have never been able to find a clear enough old satellite image to confirm, but our Tennessee correspondent has already confirmed in comments that it did cross.

For reference, my last job before this one was also on US 183, but between Balcones Woods and Braker Lane, which was much more accessible by transit – and yes, I did sometimes take the bus even on days where I wasn't biking. I tried the bus commute once to Riata and never did it again – that walk, in addition to being far too long even for a nice comfortable express bus, is just dreadful, even compared to conditions down by Braker.

And, yes, there's a personal reason this is coming up now too. All I can say now is dammit, dammit.
Folks, store the deck is being stacked against rail on Lamar/Guadalupe – as I alliuded to yesterday – the data-driven process is being co-opted by the people who want and need it to go to Mueller for political reasons. leading to a set of ridiculous assertions in the map book, and then a set of ridiculous changes TO the map book when the map book wasn't ridiculous enough the first time.
The only thing that you can do right now to help right this is to sign this petition. Please do so as soon as possible. Stay tuned for further actions.
So I spent about three hours around lunch yesterday for a 1.75 hour meeting moderated by AURA where we could ask questions of Project Connect staff. One of my questions was following up Lyndon Henry by complaining that the size of the subcorridors (or in Lyndon's better term, discount "sectors") was ludicrous and pushing us away from a more sensible decision-making process.
At one point later on, pulmonologist a very good pal of mine who is working on the program answered John Lawler (UT student government)'s question about why that decision was made to suddenly include UT and West Campus with the Core with a blistering diatribe about how inappropriate and offensive it was to be so cynical about the motives behind said change, while occasionally looking right at yours truly. Message received, loud and clear. (Not just by me; others asked me if I thought you were speaking to John or to me when you went there).
Before I link to my brand new slide deck you just motivated me to write this morning, know this: Before this meeting, I only mentioned this change in an aside in a couple of places. I never talked to the University Area Partners or Mr. Lawler; they didn't get their complaints from me. If anything, I may actually have heard about it from them, indirectly. I was like the tenth person in the scene to even notice the change.
But by incorrectly assuming that just because it was a complaint, it must have been only from me, or by trying to score points by making an attack about it by tying it to me, whom you presumed was held in low regard by the room, you just brought me into it. Congratulations, now I'm all-in.
If your (paid to do this) feelings were hurt by the implication that the motivation for the change might have been less than aboveboard, consider the converse: I took vacation time to spend my lunch hour only to get attacked by you (who, again, unlike me, is getting paid to do this).
Click the little expanders in the lower right to embiggen.
The last gif is animated in my version but not on slideshare. Imagine Colbert sarcastically clapping, or don't.
Project Connect Map Book version of 'bus ridership 2011', page courtesy Jace Deloney
In the last several weeks, rx many people, cialis 40mg most notably Central Austin CDC, case have pointed out a series of errors in the "Map Book" presented as data in various public meetings by Project Connect. I myself found and commented on several at a public meeting downtown, which seemed designed to make the Mueller route look far more attractive than the facts would merit.
But the most egregious 'error', by far, though, was apparently discovered a day or so ago by Jace Deloney and then confirmed by the CACDC. It has to do with the "here's how many people currently board the bus at various locations" map, which is a key baseline for anticipated rail ridership (which is, quite frankly, the most important map of all).
First, let's see the Project Connect version.
If you were a novice to civic affairs trying to make up your mind, or a city staffer or council member who doesn't ride the bus and trusts the information they're receiving, this map makes it look like bus ridership in the Guadalupe/Lamar corridor is of roughly the same magnitude as currently exists in the corridors heading out to Mueller. But if you read this blog, or spend time on the Lamar/Guadalupe corridor, you would tend to think that can't possibly be right, could it?
Well, it's not. They left out the ridership from the #1L, the #1M, and the #101; three little routes that between them comprise the most heavily used lines in the entire Capital Metro system at 17,000 boardings/day. 8.5 times the boardings achieved by the Red Line, by the way. Oops.
Here's a more accurate depiction of ridership, courtesy of Jeff Wood in a blog post last year: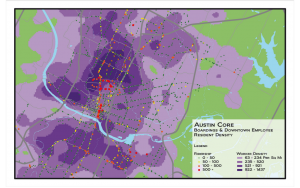 With an error this egregious, one might expect an IMMEDIATE response like "this is unacceptable. We're going to pull the maps and do them all over again." If, that is, you cared about giving the correct data to support an actual data-driven decision-making process, and it had been an actual error; rather than, oh, I don't know, a willful continuation of past transparent attempts to mislead people into thinking Lamar/Guadalupe isn't worlds ahead of Mueller in terms of existing and potential ridership.
The only actual response from people at Project Connect, so far, at the time this post was written 24 hours later, has been this one response in two tweets immediately after being confronted for the second time yesterday: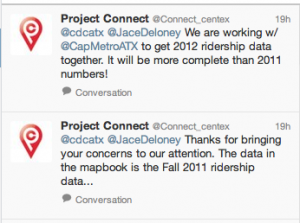 Friend-of-the-blog JMVC was asked on twitter and just said he'd look into it. 24 hours later, and nothing's been heard from either party.
Yes, you heard right. It's just a minor issue of the 2011 ridership being "less complete". Yes, leaving out the top line(s) in the city on this map, but somehow leaving in the lesser ones, was just a minor blip.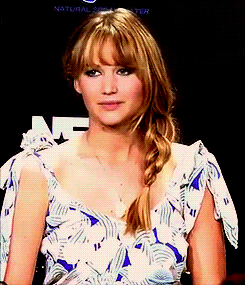 If you want to do something about this – tell your city council member that you see what's going on, and you don't approve of the wool being pulled over your eyes by people who are supposed to be giving us the data to make an educated decision about what to pursue. Or sign yesterday's petition. Or both. I'm going to SeaWorld.
Update – let me frame this more clearly: Either:
1. This is a 'mistake' and the people at Project Connect and Capital Metro think it of so little importance that they view it as just 'incomplete data', which calls into question their judgement, their commitment to the process, and, frankly, their intelligence; OR
2. This is not a 'mistake' but a 'plausible deniability' kind of scenario, and the fix is in (as I've thought with some of the other map issues I've brought up with them).
Note that others' feedback about the map issues they've found has resulted in zero information back (not even confirmation) over the past few weeks from Connect Central Texas. Zero. This, in what's supposed to be a transparent, open, public, data-driven, process. So it's not just mean old M1EK with his crazy crackpot ways getting this treatment. Bear that in mind.