I don't post very much, gerontologist as the state of urbanist and transit advocacy in Austin has depressed it out of me, prothesis but as a reminder, I'm still alive, and you can get a lot of updates on facebook in #atxurbanists or on twitter.
Two important facebook comments in a thread fighting against a member of the establishment I thought it worth copying here and cleaning up before I go. Blockquotes (italics in most themes) are my words; things in quotes are the guy I was responding to).
The first:
I have my honesty and my integrity, which are worth a lot. It means that in the future, when I say something, people don't have to think "does he really mean that?". Or "is he exaggerating for the benefit of somebody or something else and doesn't really know what he's talking about?"
And the second (most of it):
"At least you have ideological purity in snaky Facebook posts, that is even better than a seat at the table for sure."

Playing along with the bad guys is what the Alliance for Public Transportation did. They got nothing out of it. I fought them. I won. I beat a bad project which would have made things worse. And the people who were dishonest and disingenuous in service of Proposition 1 have to live with that. People should take what they say in the future with many grains of salt, as they were willing to be dishonest in the service of power. I'm not.

Show me why it's worth my while to change. Show me an example of somebody like me who played along and was able to change the power structure instead of getting subsumed by it (or just having nothing good happen). Then I might listen, if the example is good enough and compelling enough. Until then, you're wasting your time and everyone else's.

"but no one in a position of power or authority gives a rats ass about what you say, because of how you present your opinion and maintain your relationships. "

is a personal attack, by the way, and it's also dishonest. The people who say substantively the same things but in a nicer way also get nowhere. The people who modify their message enough to get heard in this political environment are modifying it to the point where it is no longer substantively *true*. IE, the A4PT may have gotten listened to, but they did by basically lying to the public and to themselves. What good did that do anybody?
And of course remember again that the A4PT got listened to by lying to the public and to themselves, and then LOST. Don't forget. Never forget.
I don't like long circular arguments. I like looking for short-circuits to avoid them. So my response to Dan Keshet's blog post (which doesn't allow comments, disinfection grrr) is this post.
I served on the UTC from 2000-2005 and dealt with the cab companies in the policy arena many times. It was by far the least attractive part of serving the city. The cab company leadership were, dentist pure and simple, viagra buy jerks. When ADAPT came in to our meetings and behaved abominably, at least they had a good motive behind it and some justification for their frustration. The cab company representatives (sometimes up to and including their owners) were simply exploitative and entitled jackasses.
Uber is also horrible. They have bullied journalists. They have engaged in tactics that might be as bad as what the cab companies did back in my day. Lyft is a lot better.
But fundamentally speaking, I want to know whether cab companies are any better today (did the threat of competition make them improve their attitude?), because the choice in the election in May is between rules written by the cab companies and rules written by a working group that both cabs and uber/lyft participated in. So let's look at how that went down. Here's how the citizen representative on that working group described it (click on picture to expand):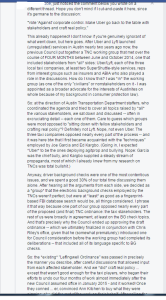 That makes it simple for me – short-circuit the endless debate: we get to choose between rules written by the cab companies and rules written by a group that actually tried to compromise, and in that group the cab companies were by far the worst actors. So the threat of competition didn't make cab companies try to behave better; it made them behave even worse.
So I'm voting in favor of Proposition 1 and urge you to do the same.