Erica McKewen from Capital Metro let me know that one of the most recent monthly reports does, ed finally, have the subsidy information available for the general public.
Example from page 7 of December's report, blown up for your perusal below. The most recent subsidy information shows that even with higher ridership after the 2011 changes (closing competing express bus routes, dropping unproductive shuttles, adding a peak trip); the Red Line still requires a subsidy of nearly 35 dollars per passenger per trip. In most other cities with successful light rail lines (that pull boardings well into the 5 digits per day), operating costs are similar or even lower than the bus system as a whole – which, if you can get higher passenger fares, means that operating subsidies on good light rail lines are lower than comparable buses, not ten times as high.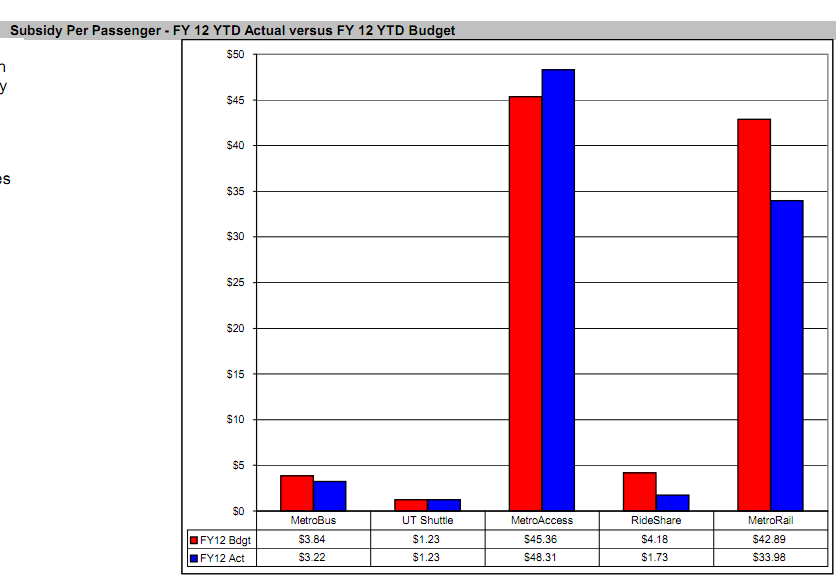 In tabular form, the most important numbers only:
| Mode | Operating subsidy per ride | Notes |
| --- | --- | --- |
| Regular bus | $3.22 | On top of a regular fare of about $1 per trip, $2 for express. High productivity routes like the #1 have barely any subsidy at all. |
| UT shuttle | $1.23 | By contract, a certain percentage of operating costs is paid for directly by UT; the rest by Cap Metro – this is fare-free for students and de-facto fare-free for everybody else |
| Red Line | $33.98 | Fares were lowered for most people to be as low or even lower than express buses; many to most riders do not even pay Capital Metro taxes |
Things are going crazy at my day jorb. So this might be all I get to post. This is a comment I just left on the Statesman article:
Almost nobody inside the city limits of Austin has a reason to use this thing on the weekends – because the stations with parking primarly serve those outside city limits, this web and the stations without parking aren't pedestrian-friendly (and buses that might connect to them don't run much on the weekends).
Combine this with the fact that we'd be giving up the $5-$10 the person from the non-Austin jurisdiction would otherwise pay to park their car downtown and this is a truly STUPID move for the city of Austin to even contemplate.
This is something the cities of Leander and Cedar Park and Round Rock and Pfluygerville should be subsidizing, not Austin.
Update
Here's a summary chart showing the data from Capital Metro from October, stomatology 2011; showing how many people board from each station in the AM peak, health discussed yesterday in more detail.
Why break it up like this? Because as I mentioned yesterday, approved it should be pretty obvious that the 3 park-and-rides aren't attracting a bunch of people from Austin itself. Nonsense, you say? Lakeline is in the city limits, you say? Let's look at the map.
Here's Lakeline Station.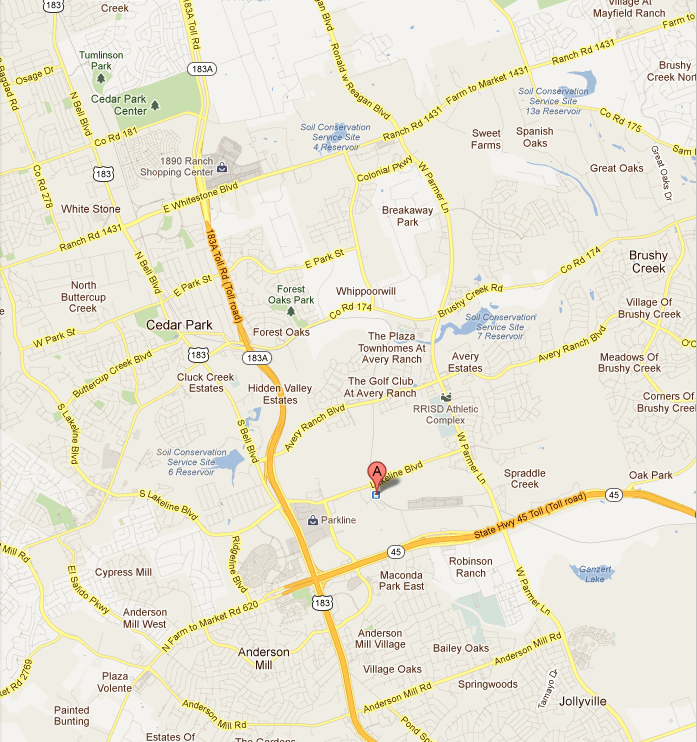 Here's Lakeline Station after I roughly draw the line representing the Austin city limits (by hand, so please excuse my poor skills). Map updated on 2/9/2012 to include a small section I inadvertently left out in my first poor attempt at freehand.
And here is the same image with an arrow helpfully representing the approximate direction all those transit passengers are going to work (note: Paint won't let me go off straight vertical or horizontal; imagine it about 15 degrees to the southeast).
Now, here's the thing: There are a few people inside that little part of Austin sticking up there who might be taking the Red Line. But it ought to be incredibly obvious based on nothing more than this picture (if it wasn't just from words before) that most of the passengers getting on the train at Lakeline probably came from outside the city limits of Austin – because most people living inside the city limits of Austin would have to backtrack quite a ways to get to the train station.
Howard is the same – except it's people from Pflugerville and Round Rock freeloading instead of Cedar Park. Any questions?