A photographic exercise by M1EK. All pictures obtained from the 9/24/05 Future Connections steering committee presentation.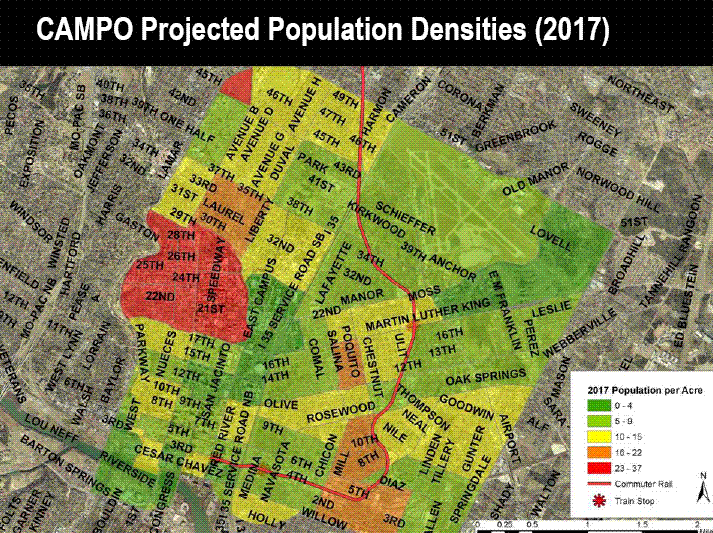 This is a bit misleading since it makes it look like Hyde Park and the neighborhoods around Airport Blvd are equally suitable for rail transit – the problem is that you can't walk to stations along Airport from any residential developments of consequence; the area is fairly pedestrian-hostile.
Note that all of the existing and future high-density residential and employment centers are going to be served by "high-frequency circulators", i.e., shuttle buses stuck in traffic. While the incredibly important Airport Boulevard corridor gets rail. Here's one example of a circulator movement they envision; this one is planted right on Speedway near my house. Note: there's already high-frequency bus service to campus and downtown on this street, so it's doubtful they'll be doing anything here other than publicity:

Now, for comparison's sake, I took the two 2017 maps, and using my awesome drawing skills, drew the 2000 light rail proposal, in blue. The jog from the Guadalupe corridor over to Congress Avenue might have happened as far north as 11th; I chose 9th as a compromise. Some versions even had it running around the Capitol on both sides — but this is a simpler drawing that still hits all the same major spots. A short distance north of this map, the 2000 light rail line would have converged with the red "All Systems Go" line and continued northwest on existing rail right-of-way towards Howard Lane, so this picture captures most of the "difference" between the proposals.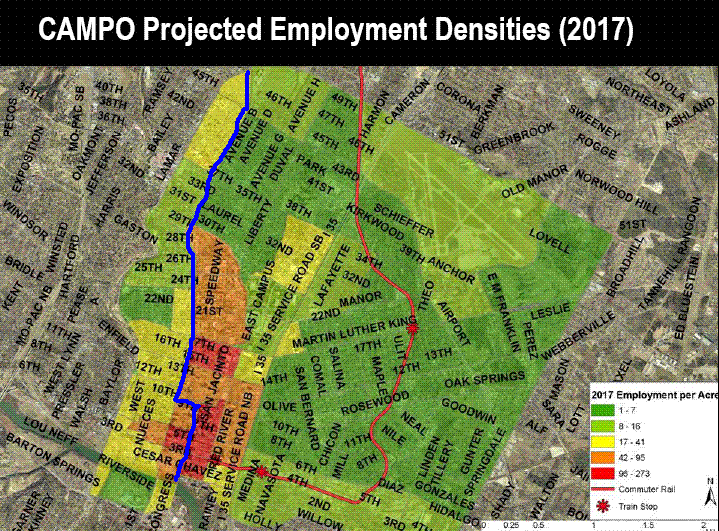 Gosh, which one would have a better chance at delivering ridership? I really can't tell the difference. I guess Lyndon IS right – this commuter rail plan IS just as good as light rail!