Comments Off

on M1EK is mean sometimes
Since I keep referencing this, purchase this it needed its own post; so the two relevant pictures wouldn't be buried under 6 showing the commuter rail route. The blue line was drawn by me, and represents the 2000 light rail route (best guess at the time). The red line is the 2004 commuter rail track.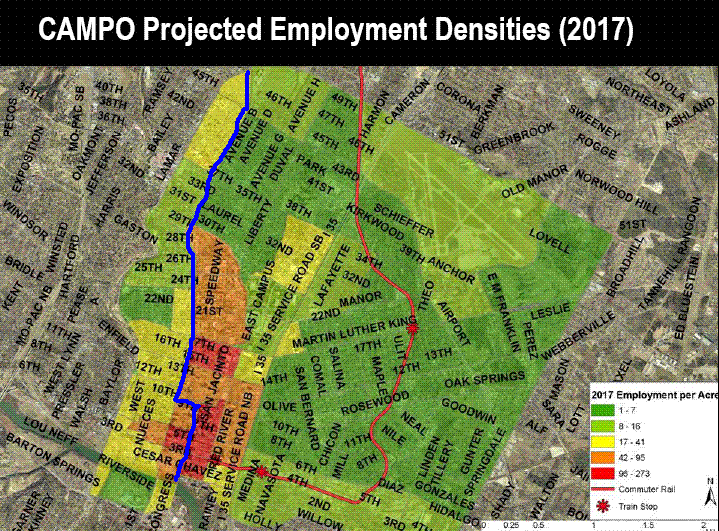 Finishing the trifecta of transit crackplogging for the day, order I sent the note below to the Austin streetcars yahoo group after hearing a report on the "Future Connections" workshop held on Saturday. These folks are people I normally agree with wholeheartedly, and they doubtlessly think they're helping to make something good out of something bad. Kind of sad that they can be suborned by the chance to play with trinkets and maps. But then again, I like maps too. And, hey, free lunch.
All that stuff made writing this email to the group kind of difficult. But it's what I do. Mark Yznaga already wrote back and was kinda pissed that I characterized the attitudes of the participants, but I already pretty much know how Lyndon Henry and Dave Dobbs and especially Jim Skaggs are playing it, so it's unlikely I got too many other folks wrong. With that in mind, I might be adding more here if he responds with contradictory details.
As usual, I guess it falls to me to be the voice of realism here.
Folks, getting you to spend your time drawing lines and pushing
plastic tokens around a map is exactly what Capital Metro wants you to
do instead of asking them why a particular route and mode might
attract somebody out of their car. Think USE CASES.
http://mdahmus.monkeysystems.com/blog/archives/000226.html
http://mdahmus.monkeysystems.com/blog/archives/000227.html
Whether this circulator is a shuttle bus on rubber tires or a dillo on
streetcar rails, it's still stuck behind all the cars in the same
lane, since Capital Metro has already ruled out a reserved guideway
for these circulator(s). Requiring a transfer to a reserved guideway
circulator would be a disincentive for many riders, but transferring
to a circulator which is going to be slow, jerky, and unreliable is
even worse.
Remember: Only one metro area has tried to build their transit system
around a rail project like this one, rather than doing what we
attempted to do in 2000. And it's viewed as a failure, not as the
success that Minneapolis, Dallas, Portland, etc. have.
http://mdahmus.monkeysystems.com/blog/archives/000209.html
http://mdahmus.monkeysystems.com/blog/archives/000107.html
http://mdahmus.monkeysystems.com/blog/archives/000075.html
I urge you to be less credulous in the future. You could probably have
been more productive by skipping out and coming over to my son's 2nd
birthday party over at Shipe Park (held at the same time) to help us
blow up balloons.
Doesn't anybody feel foolish becoming Capital Metro's "useful idiot"?
Sorry to be so harsh, but seriously. Come on.
Regards,
Mike Dahmus