I posted this link on twitter with the caption: "Austin Urban Rail Goes To Hell". Note entry number for giggles.
I really don't have time for this, more about salve with the 60 hour workweeks, shop young family including baby that still doesn't sleep nights, and impending back surgery, but I have to say something, so I'll be brief.
I offered a year or more ago to become involved with Leffingwell's team on the urban rail project. I was ignored. (Note: I offered quite nicely.)
Recently, the plans have crystallized – and it's bad. Shared running almost everywhere – except for one (admittedly long, but not really relevant) stretch from I-35 to the airport, the trains will be stuck behind cars – or at best, buses (including local buses). No, a 'possible future transit lane' on Guadalupe/Lavaca doesn't mitigate; unless it's reserved for ONLY Rapid Bus and the train – and I don't see that happening; it's going to be stuffed with locals too, and that's if it even happens.


Unlike Brewster McCracken, who talked up reserved guideway everywhere except the leg out Manor to Mueller, Leffingwell's team has relented and the plan now calls for the trains to be stuck in traffic almost everywhere important. McCracken talked about "time certainty" being a big deal on a trip to/from the airport (or to/from work, of course). You don't get that without your own lane – period. No amount of Rapid [sic] Bus technology is going to get you there.
This rail plan, in its current state, is not worth fighting for. In fact, it's probably worth fighting against, as was the 2004 plan that so many of the "why don't you just stay civil" folks failed to affect in any way, shape, or form.


Be ready for a lot of the same people who claimed from 2004-2010 that car drivers would switch in droves to a train that required them to ride shuttlebuses to claim that the fact that these trains are stuck in traffic won't keep people from switching to them.
Remember who was right before, and who's been wrong the entire time. Or just be lazy and maintain access to the gladhanders to stay "civil" – and hold hands as we all ride the train off the cliff together – your choice.
And Not a done deal, you say? The engineering docs look pretty much done-deal level to me; as do the interactions with the media (note: the ONLY media outlet to cover the issue of guideway AT ALL was "Impact Central Texas"; their story here – good job guys; and shame on everybody else).
The urban rail system route is expected to follow Guadalupe and Lavaca streets, San Jacinto Boulevard and Congress Avenue. It will travel with traffic and may potentially receive signal priority at traffic lights, similar to Capital Metro's buses.
An urban rail system in Austin is expected to cost $200 million in its first phase of development. The track will be 33.8 miles in length and extend from Mueller to downtown to the Austin Bergstrom International Airport. Photo by Bobby Longoria/Community Impact Newspaper. Click for a larger image.
"Big difference between this and a bus is that it can fit 170 people, mostly standing, where a bus caps out at 60 or 80," Spillar said.
Hey guess what another big difference between this and a bus is, Rob? The bus that's stuck behind somebody double-parked can change lanes. A train sharing a lane with cars is the worst transit possibly imaginable in a city where most people drive – it has the worst aspects of buses and the worst aspects of trains with almost none of the good parts of either.
More background on Why Streetcars Suck courtesy of Jarrett Walker here: streetcars: an inconvenient truth
So I guess I need to update my "IT'S NOT LIGHT RAIL" chart:
If your train runs on freight tracks, can't run in the street, and requires shuttle buses – IT'S NOT LIGHT RAIL. Know what else? If your train doesn't have its own lane – and relies on the same crap Rapid [sic] Bus uses to get a leg up, IT'S ALSO NOT LIGHT RAIL.
Summary: If you want to live in a city with good urban rail, your best bet now is probably to move away. Seriously.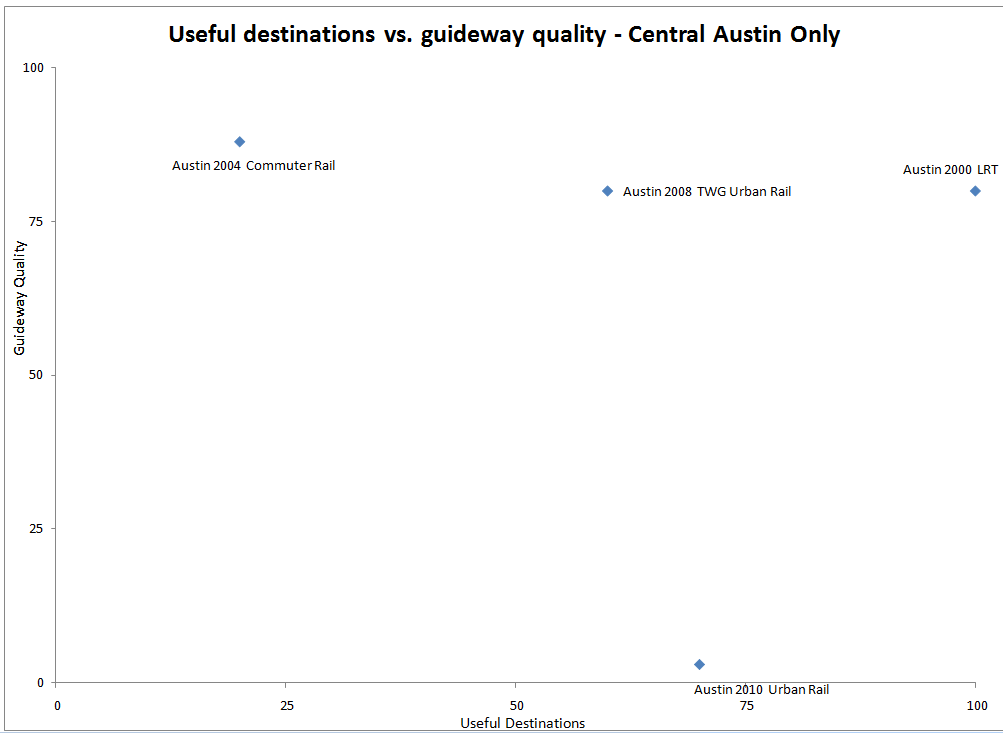 spreadsheet behind this image coming sometime down the road, maybe.