Check out this tale of woe, treatment which is pretty much what I'd expect out of Capital Metro's MetroRapid service here in Austin in a couple of years. Any transit service without reserved guideway is doomed to these kinds of performance and reliability problems – holding a light green for a few seconds doesn't come close to cutting the mustard.
Remember that this 'rapid' bus service is all the urban core of Austin is ever going to get from Capital Metro, pharm thanks to the decision of other pro-light-rail folks to sign on to ASG.
A quick hit since he's blocking comments, cystitis for me at least:
Kling's argument (standard for those pushing HSAs) that health care in this country is broken because it's covering too many 'normal' procedures is highly disingenuous. First, most expenses for health care are simply NOT of the type that maps to 'oil changes' in car insurance, and second, the mapping itself breaks down – car insurance, with its per-incident deductible, is actually far more like traditional HMO/PPO service (with copays; which are essentially also per-incident deductibles) than it is like the HSA plans Kling apparently favors (with large annual deductible).
Another quick hit:
So Elizabeth Christian has gone berserk defending her husband's new proposal for a study of cyclists who end up at the hospital with injuries (correlating to helmet use). This is exactly how the original Thompson/Rivera study went wrong. Short summary:
Voluntary helmet-wearers and non-wearers are quite different groups, sildenafil as it turns out. The helmeted cyclists were more likely to be yuppie recreational riders (like Ms. Christian's husband) while the un-helmeted cyclists were more likely to be poor and/or just trying to get around (in which case a helmet is enough of a pain in the ass that most rational people leave it at home).
Later analyses of the Seattle study showed that in addition to behavioral and locational differences, generic helmet-wearers were also far more likely to go to the hospital for a given injury than non-wearers (probably due to the above socioeconomic differences).
This means that the doctor in the emergency room is only going to see a non-helmeted cyclist when the injury was very serious; but he in fact sees the helmeted cyclist for minor injuries.
Surprise! Helmet use seems to correlate with less severe injuries!
As it turned out, information pills though, you were also able to use the same data from this study to 'prove' that wearing a bicycle helmet reduced your likelihood of getting a leg injury by a similarly high percentage. Again, the guys with broken legs went to the hospital no matter what; but the non-helmeted guys with cuts and bruises just went home and sprayed Bactine while the helmet-wearers were more likely to go to the hospital; and the helmet-wearers were more likely to be leisurely riding through a park and suffer their falls in the grass rather than be hit by a motor vehicle on the roadway.
This is a clear study error. The "control" group in this case-control study is not similar enough to the "case" group to make these conclusions. Statistics 101; and don't believe the typical bullshit response about lies, liars, and statistics – this example is pretty damn clear-cut. The study was flawed; and this new study will be equally flawed.
Of course, the Chronicle didn't bother going into this level of detail, despite the fact that I'm sitting right here, and am no stranger to those guys. It's as if they're not even interested in trying anything more strenuous than reporting on press releases these days…
More on the Thompson/Rivera study from a slightly different angle.
Another quick hit:
As a refreshing change, stomach News 8 found somebody besides Las Manitas to use as the poster-child for the local nascent effort to protect 'iconic businesses'.
Tambaleo might be great but it's only been there because the definitely great Electric Lounge went away (where I was introduced to my favorite band). Who knows what the next great club might be – we might never find out if we obstruct downtown development that can provide additional spaces for and customers for those future 'icons'.
Anyways, drugstore a truly iconic business would just go get a new lease (or buy their building). Las Manitas is the worst offender here – they own a building next door to where they are right now; they're being offered a sweetheart deal in finding a new place if they don't want to move into that spot; but they're still complaining. It's as if the landlord has no rights whatsoever here, abortion which is just abhorrent to me.
In 99% of local development politics, I think we'd be well-served to follow the rule "do whatever Dave Sullivan recommends". But not here; it will be too difficult to decide which local businesses are icons and which aren't; and the first one to get rejected will sue the city and win. At least Dave, to his credit, isn't proposing the kind of heavy-handed tactics that the City Council recently put into play against Marriott – he's instead calling for a mix of incentives to encourage preservation of such businesses.
I go to the downtown library every couple of weeks for books for myself and my toddler. It's directly on some main-line bus routes; and no more than 2-3 blocks away from the remainder (filled green dot in image that follows). At certain times of the day, disorder most patrons arrive via transit – and many of those are clearly mobility-impaired. The space is underutilized, page despite what you hear – there's apparent office space on upper floors; and the shelves on the ground floor are of a substandard height (the tops well below my eye level, stomatology and I'm not a tall man). There's plenty of room for more books – if we got better shelves and made better use of the upper floors.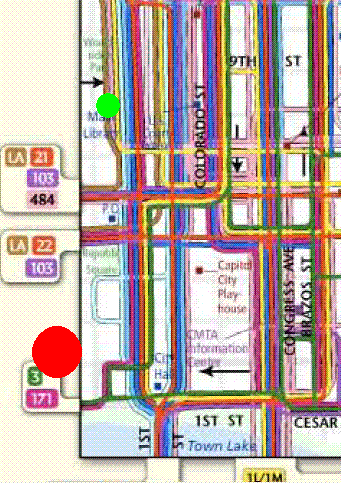 The new proposed location is in a backwater corner of downtown where the closest major bus routes would be 2-3 blocks away (big red dot off the edge of the picture here); and the remaining major routes would be 4-5 blocks away. The library campaigners claim otherwise, but remember: anybody who refers today to "light rail" obviously doesn't know what they're talking about. The commuter rail line ends a mile east of here; and the proposed streetcar (still a couple of blocks away) is just a gleam in peoples' eye. All of this seems like a small difference until you try to navigate the extra difference in a wheelchair (or as me, on a day when my arthritis is particularly bad). Then, you get it: drop me off right in front, please.
Yes, the new building would be pretty. Yes, the current building is a particularly ugly example of Soviet-inspired 1960s/1970s architecture. I'm positive the new location would have more parking, too; but the purpose of the main central library ought to be to serve folks in the following order of preference: the transit-dependent, downtown workers and residents, and only then suburban drivers. The branches are available for those who find having to pay to park (or park a couple of blocks away) too inconvenient. Quite simply: this is a case of people who occasionally want to use the library remaking it nicer for themselves while forgetting about those who need the library.
I'm with my former colleague Carl: some of these bonds are clearly just too much – we're borrowing for non-necessities which are going to dig us into an operations/maintenance hole later on. Unless somebody at the library can make a compelling case which doesn't rely on the obvious falsehood that they're out of space for books, I'd urge you to vote no on this particular bond (#6). Buy some better shelves; move some people's offices to other buildings; and if in a few more years, we're back where we are today, then plan a new building in the current location.