Comments Off

on Commuting To Riata
I had a nice conversation with Jonathan from Another Pointless Dotcom while doing some work last night, and it came to light that he works in the same complex I did for about a year and a half. This reminded me to share with him my old slideshow of that commute, which I've probably never mentioned on the blog. I also then chatted about it this morning with my current cow orker who has a lot of experience in the area. Since this might be of general interest to people who work in the area, I'll initiate this new Bicycle Commuting category with this oldie-but-goodie.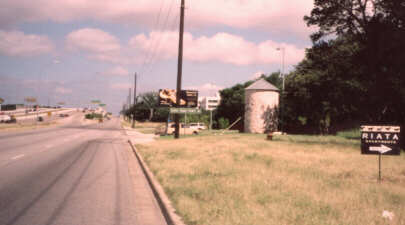 Riata is a cautionary tale of any number of my hot buttons, including the problems that frontage roads cause transit and pedestrians, neighborhoods being irresponsible, developers getting to claim credit for being 'near' transit when it's not feasible to actually use, high tech offices and apartment complexes metastasizing along sprawl corridors rather than being downtown where they ought to be, etc. There's at least a few thousand employees of various companies in there now – probably still down from the pre-bust peak.
The key things to remember about commuting to Riata, which is halfway between Duval and Oak Knoll on the north/east side of US 183 are:
Use Jollyville. Now with bike lanes!
When transitioning to Riata Trace Parkway, your choices are to go all the way up to Oak Knoll and come in the back way, or go over on Duval to the 183 frontage, and go in that way. In the morning, the northbound 183 frontage is very civilized and not a problem.
When going home in the afternoon, you'll want to use the TI/Oak Knoll back way. Don't mess with 183 then.
Think about using the bus for a boost uphill in some mornings, if you're like the (old) me and commuting from central Austin.
Decide whether you want to cross Mopac on Spicewood or Steck. My current cow orker prefers Steck all the time; I prefer Steck uphill and Spicewood downhill. Depends on your tolerance for the stress of the crossing at Mopac/Spicewood versus the speed you'll give up at the 4-way stop on Steck.
(Technical details: I wrote the crappy slideshow script which reads pseudo-XML a long time ago and have never touched it since; it BARELY works; don't look at it cross-eyed or you might break the internet).